https://store-images.s-microsoft.com/image/apps.30025.9e9655dc-ed61-4c95-a18a-9e9fde7da83e.75ab5e28-103a-4575-a0b6-6c80afe5b713.e99e1092-5a22-47d4-9e12-e62fa4dbc2b4.png
Booking Room Pro
por Witivio
Organize and manage your office and seating occupancy
What is Booking Room Pro?
Booking Room Pro is a room occupancy and seating solution for Microsoft Teams. The app is the go-to solution to manage space availability in two simple steps.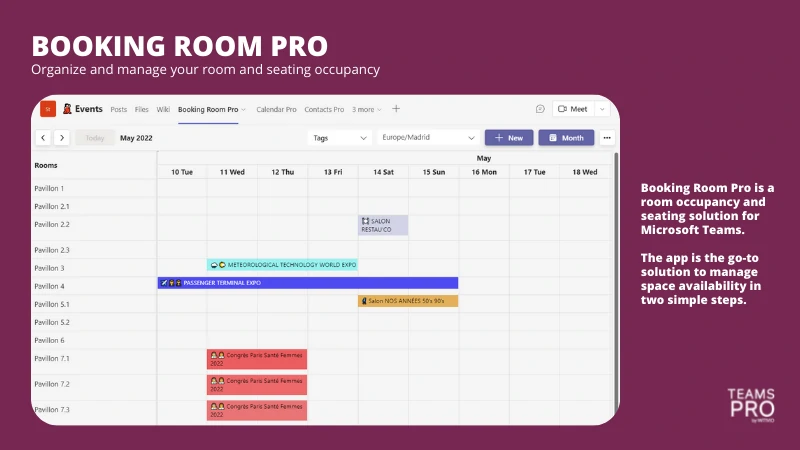 Here's what you can do with Booking Room Pro
Add as many bookings as you need, and color code them to your needs.

Display Booking Room Pro in monthly, weekly, and daily formats.

Customize the title, description, and color of the booking.

Create tags to filter out bookings.

Personalize the app and bookings' time zone.

Add a location to your bookings.

Print the reservations.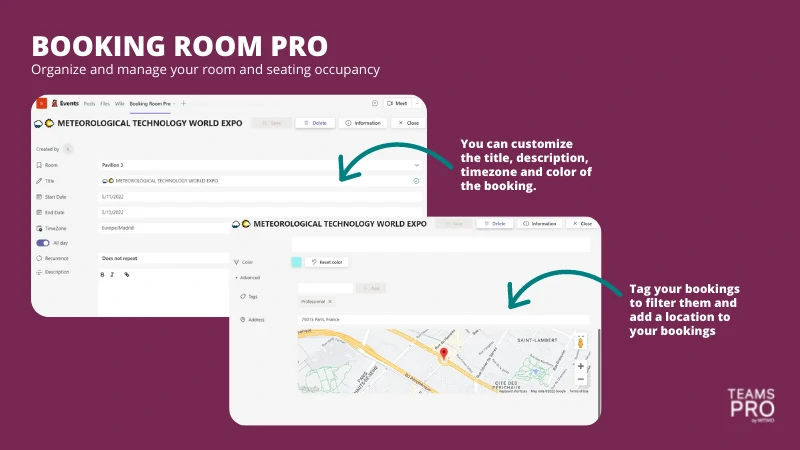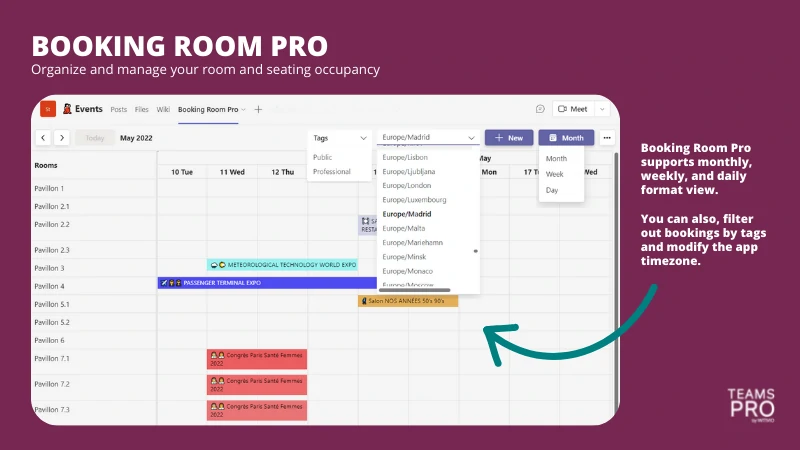 Calendar Pro – Examples of use
Meeting room reservation:

companies with a limited number of meeting rooms.

Workspace Management: companies that are operating from a flex office space and that need to manage the seating occupation.

School or university:

to manage computer lab reservations, arts and crafts rooms, or material (computers, tablets, TVs, 3D printers).

Medical:

for hospitals and clinics that need to control the booking of surgical procedures or exam facilities from Teams.

Communities:

any association, church, or local community who need to optimize their spaces or share their limited resources.

Operations:

small companies or teams in large organizations use Booking Room Pro to track their operation. For example, a flooring diary, maintenance/cleaning, or delivery points and dates.
If you encounter any issue with Booking Room Pro, reach out here. For any other inquiries, contact us.
Funcionalidades do suplemento
Pode enviar dados pela Internet
Este suplemento pode acessar informações pessoais na mensagem ativa como as informações de números de telefone, endereços postais ou URLs. Ele pode enviar dados a um serviço de terceiros. Outros itens em sua caixa de correio não podem ser lidos ou modificados.
Visão geral
https://store-images.s-microsoft.com/image/apps.11527.9e9655dc-ed61-4c95-a18a-9e9fde7da83e.50a0f584-bd97-47a0-8161-11eb0f4939e1.a305be0f-fb7e-470d-8091-6b4add040704.png
https://store-images.s-microsoft.com/image/apps.42588.9e9655dc-ed61-4c95-a18a-9e9fde7da83e.50a0f584-bd97-47a0-8161-11eb0f4939e1.cacc6e77-c341-4ced-b8ef-d75cd90e6a97.png
https://store-images.s-microsoft.com/image/apps.44216.9e9655dc-ed61-4c95-a18a-9e9fde7da83e.50a0f584-bd97-47a0-8161-11eb0f4939e1.cd9841df-d0b1-4f35-9019-a35549400e60.png
Outros aplicativos de Witivio